Monday morning - is it the beginning of a work week or the ending of a weekend?

In reality I guess,

it is a little of both and that is okay.
This past weekend I had the grace of nothing.

Pure unadulterated nothingness was savored.

Each empty moment was gathered into a bouquet of grace - a fragrant and beautiful reminder that even in the nothing His presence abounds.
I need these bare moments.
It is more than a need.

It is a craving – a desperate ache to be empty and wanting.
In a world that wants to be inundated with things to have and with things to do, I want less.

I hunger for nothing.
I am learning that until I am naked and wanting.

I will not see.

I cannot hear.

I forget to touch.

I barely live.

I am too easily distracted by thoughts and things and people.
This weekend was abundantly nothing.

That was good, so very good.
Still savoring the simple and stark.
Today I join in with a thankful heart and gather the gratitude ...
- a long weekend away to empty
- a husband who loves to laugh
- dogs who are happy to see me come and sad to see me go
- garden fresh tomatoes still warm from the sun
- sweet corn on the grill
- thunder and rain on a hot summer evening
- a camera that can capture what I never really saw
- a heavy sigh and a warm embrace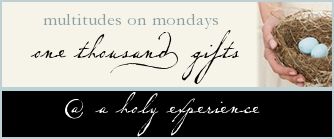 Also joining in today with Laura and Playdates with God:
© A Sacred Longing 2009-2011