Sometimes I feel like I am on the inside looking out.
I gaze – I gawk – I dream but there is something that keeps me from riding the whirlpool.
I don't like feeling like an outsider.

It is uncomfortable and lonely.
Too much time wasted – staring out through the curtains.

Watching and wishing.
Just a few weeks ago, I celebrated another birthday.

The cake is getting pretty small in comparison to the bonfire lit on top.

It is crazy at times to think of the years that have gone by without much thought.
It is crazy and at the same time, sad.
Barbara Johnson once said, "We spend our lives dreaming of the future, not realizing that a little of it slips away every day."
I am beginning to understand the truth in this statement.
Like grains of sand that fall through my fingers, days pass quickly into months and then years.
Waste no more.
Wish no more.
Seeking to l
ive today.
Today I continue to gather the graces with gratitude:
- a warm cup of coffee and a pastel painted sunrise
- the laughter of friends
- the smell of his hair
- a friend who doesn't give up
- truth spoken with love
- warm sand between the toes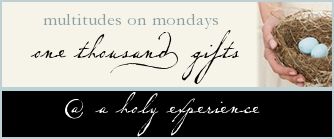 Also joining in today with Laura and Playdates with God:
© A Sacred Longing 2009-2011